Protect your outdoor space with a Shade Structure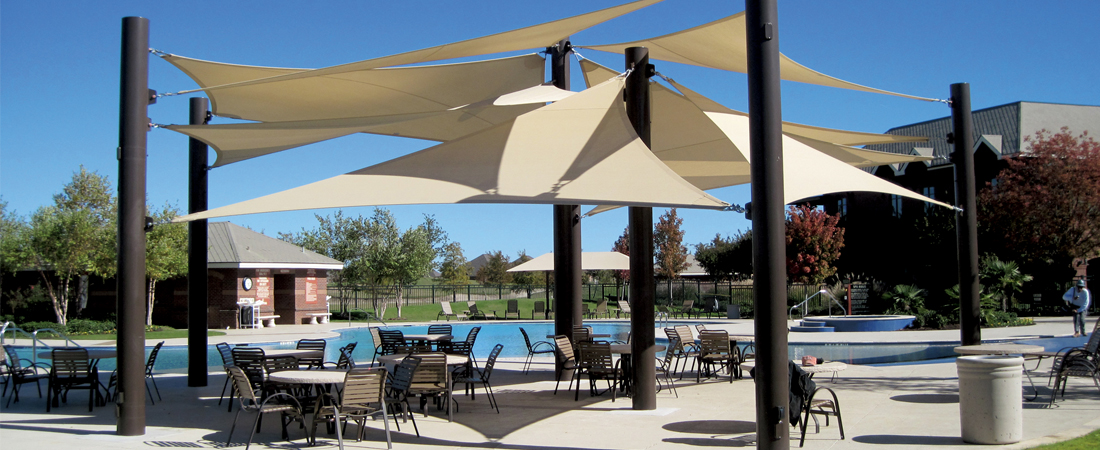 Shade Structures™ is the leading shade fabric fabrication company with more than 25 years of experience in the sector. At Shade Structures™ we take care of the entire project through our technical, design and installation departments. Some of the clients we have supported over the years are municipalities, schools, sports centers, shopping centers, hotels, airports, transportation stations and outdoor corporate offices.
Our structures block up to 96% of the sun's UV rays, considerably reducing their harmful effects on the skin and producing a comfortable temperature.
We offer a great variety of models where customers are able to choose between a wide range of colours for the fabrics and for the steel structure.
Micro-perforated polyethylene fabrics allow air circulation preventing heat from being trapped.
The fabrics are easy to clean and require no maintenance. They have a half-life of between 12-14 years and the Teflon thread with the chain seams prevents them from peeling or tearing.
They are designed to withstand strong winds and even snow.
They have a guarantee of 10 years.
Colour options
Fabrics
Steel structure
Explore our range
HIP
4 Posts
4 fabric covers
Measurements
Min: 3m x 3m
Max: 12m x 12m
HIP structures are very cost-effective, and are ideal for shading a wide variety of areas including pool areas, playspaces, outdoor seating and more. The hip roof design features clean, straight lines - a common look for surrounding buildings and structures.
MARINER
4 Posts
Double layer fabric
4 fabric covers
Measurements
Min: 6m x 6m
Max: 9m x 9m
With upper and lower overlapping fabrics, our Mariners Pyramid structure provides the shade protection of our standard Pyramid, but with modern aesthetics.
FULL CANTILEVER
2 Posts
4 fabric covers
2 cantilevered beams
Measurements
Min: 6m x 4,25m
Max: 9m x 6m
Cantilever structures are ideal for venues where the shaded area needs to remain free of columns. From covered parking and car dealerships to bleachers, pool areas, driving ranges, and more.
TENSION SAIL
4 Posts
Measurements
Min: 6m x 6m
Max: 12m x 12m
The Sail structure features columns of varying heights, enabling the fabric to be "formed" into a hyperbolic shape, which ensures maximum shade.
WAVE
4 Posts
2 fabric covers
Measurements
Min: 6m x 6m
Max: 7,6m x 7,6m
Wave structures provide unique and innovative aesthetics, adding excitement and color to any area in need of shade. These structures are designed to represent a "wave", with peaks and valleys. Because of this shape, Wave structures are ideal for aquatic facilities, pool areas, outdoor seating, and much more.
SINGLE POST CANTILEVER
1 Post
4 fabric covers
1 cantilever beam
Measurements
Min: 3,65m x 3,65m
Max: 4,25m x 4,25m
When shade is required, but there is little accommodation for multiple columns, choose one of our Single-Post designs. They can provide a unique look for your venue, with water and theme parks common applications for these designs.