Biba - getting screen-savvy children back out to the playground
Biba is a suite of mobile games that interact with playgrounds to blend the digital play that children love with active outdoor fun, while capturing data-driven insights that empower park operators.
Discover our Biba offers
What is Biba?
We've teamed up with Biba to get today's screen-savvy children back outdoors and active using imaginative games that interact directly with the standard equipment found in any playground. Various studies done in the UK have shown an alarming increase in child obesity and sedentary behaviour, with only 14% of children aged 5-11 getting the recommended amount of 60 minutes of physical activity a day.
Biba is attempting to solve this dilemma by leveraging the appeal of the smartphone and iconic children's characters to bring families back out to the playground.
By downloading any Biba app to their smartphone, your visitors will have access to a suite of fun mobile games designed specifically for children aged 3-9.
Parents or carers can download the Biba app from Google Play or iTunes App Store. All games are free-to-play and can be played on any touchscreen smartphone.
Although the games can literally be played anywhere, the playground will need to be equipped with a Biba upgrade kit for visitors to have access to the full range of play options.
On a Biba-powered play area, the app interacts with augmented reality markers installed on specific pieces of equipment and encourages the players to complete fun tasks and unlock rewards or levels. Activities range from obstacle courses to treasure hunts and are all accessible to children of differing abilities.
Discover the fun of Biba games ranging from racing competitions to an exploratory dinosaur dig to iconic children's brands such as Teletubbies and Hotel Transylvania! Each game opens up new dimensions of imaginative play and encourages children to be on the move.
Download the games sheet
What you'll get when you purchase a Biba Upgrade Kit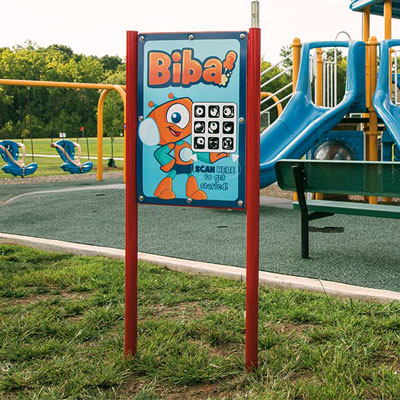 Biba Playground Entryway Sign (x1) - These signs get installed at the front of the playground to let families know that the playground is Biba activated, what Biba is, and where to download the games.
The Biba Playground Entry Sign is to be installed outside the defined play area and play equipment use zones. It needs to be oriented so that the front side faces the main entrance to the playground and next to but not interfering with the accessible route that leads to the playspace.
Playground Equipment Tags (x6) - These Augmented Reality (AR) markers get affixed to the various pieces of playground equipment and allow for special in-game moments when the apps prompt users to scan the tags, and also allow for us to track playground equipment usage in more profound and detailed ways.
These signs should be installed to correspond with the correct piece of playground equipment listed in the "Equipment Categories" diagram in the installation instructions.
The markers should be placed approximately 48in (1220mm) above surfacing. Actual height may need to be adjusted to not conflict with structure clamps (default to lower rather than higher in this case, no higher than 5ft, no lower than 2ft above surfacing).
During play, markers will be scanned by caregivers at ground level. Place markers along accessible surfacing routes within the play space to facilitate wheelchair use.
Markers need to be oriented so that they relate to the play activity but do not interfere with the with the play patterns of the users.
You'll also get detailed installation instructions for both the entrance sign and the markers.
Installation is simple, taking approximately 15 minutes using standard tools.
What are the benefits for children?
Raised activity levels
Every Biba game is developed with a unique activity profile and follows a strict "90/10" rule. Children must be physically active for at least 90% of the game, with only 10% of their attention ever spent on the screen.
Playful child-parent interaction
The parent or carer plays an active role in the games, encouraging the child to perform challenges and get to the next level. This provides opportunity for fun communication and the creation of beautiful memories.
Imaginative play opportunities
Biba games offer imagination-centric, role-play type experiences for kids to grasp onto. It's all about fun, imaginative game scenarios that naturally call for physical activity.
How can playground owners and operators use Biba?
The installation of Biba in addition to achieving healthy outdoor play will provide you with monthly data on the use of the park, enabling you to make key decisions around your expenditure, maintenance program planning for your parks, and ultimately enabling you to measure your return of investment.
You can use this data to generate a playground profile for each community, establish play patterns that describe peak hours, daily demographics, and the influence of weather on playground attendance...or even show families personalised activity profiles.
Data can be used to demonstrate return on investment and increase in physical activity levels to funders and benefactors.
The data collected complies with privacy and protection standards, as any information generated by gameplay is encrypted, segmented and anonymised to ensure its security. Users are never asked to provide personal information.
Know more about how you can use Biba system to transform your data into ROI-driven insights, write informed grant proposals and showcase the best features of your community
Download the handbook
Your monthly report will capture wide-ranging metrics, fom the peak hours of usage to the preferred equipment.
Download a sample report
How is Biba working for Camber Sands holiday park?
Camber Sands, one of Parkdean's most iconic and busiest holiday parks, wanted a large new play area as part of a major refurbishment of their outdoor facilities. The client was looking for the "wow" factor! HAGS came up with a design to provide as much play value for as many children as possible and introduced Biba to the design to give the play area a different dynamic!
The client now has regular access to the Biba data reports. This shows how busy the play area is on what days of the week as well as at what times of the day. It shows how popular certain activities/ games are, and even how the sessions are affected by the weather. This gives the client a unique insight into what play equipment is popular and can also help to guide on future equipment purchases. A snap shot of some of the gathered data and how it is presented in the report is shown on the right.